Mud Season
 -
With "spring" weather arriving, the parking lot is muddy! Please make sure to wipe off your shoes when you enter the building. Thank-you.
Condolences - 
Linda Kennedy's mother, Jean Cramp's funeral was earlier today. Saturday would have been her 100th birthday. Click 

here

 to read her obituary.

Eriye's father, Jeremiah Egbe Bailey, died in Nigeria yesterday. No further details at this time.
Elder Affirmation Bible
 - Recently
 we gave each of the elders a new Bible and you are all invited to sign your name in each. In addition, you are welcome to write in you elder's specific Bible a specific verse that is your family verse, or your verse of the year, or a meaningful verse to you or your family. You are invited to highlight that verse in your elder's Bible with your name beside it. The bibles are in the front corner of the auditorium. If you have any questions, please contact Angela Kanellopolous
Being His Hands - Their latest report is below (a printed copy is also posted on the Missions' bulletin board). You can also follow them on their private group on Facebook, contact Joel. We love you all and are thankful for you.
Sending love from Mito, Joel, Kristin, Hiro, Megumi & kids
Request from Selina Masambuko
 - Selina is looking for any used size 12 girls clothes.

If anyone can help, please contact Linda Minter 289 887 2140. Many thanks.
AV Team - Want to join our AV Team. We will be doing a training session after Bible study on Wednesday April 5 at 8 pm sharp. Contact Margaret or Noel if you are interested. 
Tintern Parenting Workshop
 – Don't forget our first Parenting Workshop on Friday March 17 at 7pm here at the church building. We're going to talk about  Answering Spiritual Questions with Your Children. Please reach out to Noel and let him know if you are interested in childcare being available on site. We have a couple of teen/pre-teen girls who would be willing to watch kids during our program on Friday but I need to let them know before Friday. 

The Chosen - Starting in April we will start watching Season 3. Upcoming episodes will be listed in the "Upcoming Events" section of the eBulletin. Sunday April 2 @ 4pm is Episode 1 - The Homecoming (The Sermon on the Mount: various elements are brought to life with incredible clarity as many of the characters show the depth of meaning of Jesus's message). 
Kids' Worship - Starting on Sunday, April 2nd, we will be starting Kids' Worship! Kids' Worship will be the first Sunday of every month. Kids grades 5 and under will be dismissed before the sermon begins and stay in Kids' Worship through the end of the service and then be dismissed to their classes. It is Young Adult led and the kids will be worshipping, doing an activity, and learning. Contact Megan for more information.

Celebration of Spring Potluck - We are looking forward to celebrating Easter on Sunday April 16 (the Sunday after Easter) following morning worship. More information will follow. 
Micah 6 Mission Trip
 - Signups for the Micah 6 trip (April 27 - 30) are due on March 19th (this Sunday!!). Sign up by letting Megan know or on the sheet on the bulletin board by the bathrooms. Trip cost is $50 and is open to anyone. 
GLEANERS Fund Raising Dinners - After three years, we are looking forward to hosting two Fund Raising dinners in April - Friday, April 14 and Saturday April 15.
There are several spaces available on the Friday. You are invited to sign up. Tables of 8 have been a fun way to attend and support this increasingly needed ministry. Come join us. Reservation requests can be sent to:  ncgdinners@gmail.com 
Save the Date - A bridal shower for Catherine Wirkkunen will be held at Tintern on Saturday April 29 at 2:00 pm. More details to follow. 
Family Story Writing Workshop - Sandy McBay shares an announcement about a Story Writing Workshop. See attached. 
World Water Day - On March 22, it's World Water Day, and we're taking action to demonstrate Christ's love and end the global water crisis. With your help, we can make an even greater impact!
The statistics are staggering: 771 million people still thirst for safe water, and millions more go unreached with the gospel of Jesus Christ. People suffer daily in the 17 countries we work in across the globe. That's why we need everyone rooted as one to end this crisis.
With just one week until World Water Day, we need your help now more than ever. Together, we can quench more thirst, help more churches thrive, heal the sick, empower more women and children, and unite more people through Christ's love.
The foundations of our work are strong, and through our global Christian community, we can make them even stronger. Join us this World Water Day and take root in our efforts to make a difference. Please donate today.
We are so grateful for your support to bring water, for life, in Jesus' name to the world!  – Your friends at Living Water International
Village of Hope - Attached you will find a letter from Village of Hope.
Niagara Life Centre - We get it. March can be frustrating. Yet this time of year is a perfect message for us to hold on and never give up because spring will come and life will get warmer.
Just like March our lives are often a mix of good and bad. Sometimes things are going great and we feel like we're thriving, and other times we are struggling and can't seem to catch a break. It's hard to be grateful when life's a mess. It's easy to despair when we can't see the end of the the pain…
Whatever you may be going through remember - there will always come a springtime. Life will get better and we are here to walk with you through it. That's what NLC is all about, offering Help, Hope, and Healing to our community.
March is a hard time, but it's also a beautiful time.
A beautiful reminder of the life God's brings in springtime.
We are here to help
289-968-5446
Our Hotline is available Mondays, 9:00am to 12:00pm
Spam Emails - Reminder that you will not receive an email from any of the Tintern staff requesting gift credit cards, gift cards or money. Please delete any emails like this. This is also a reminder to be careful of any links you click on in emails or social media. 
---
What Are Tintern Kids Praying for:
Grades 4&5 Sunday Morning Class
(from last week)
Allie: praying that performing my dance to my school will go well
Lawson: praying that my cousin does well in basketball
Gwen: praying for my gymnastics competition to go well
Lochlan: praying for my hockey game, that Ellis doesn't score a bunch of goals on me
Peyton: praying that my brother's birthday goes well
Lillith: praying that my hamster lives longer
(from this week)
Lochlan: that my hockey games goes well and Logan has a good time on his trip
Gwen: that my gymnastics competition goes well
Kathryn: Thankful that I had a safe drive home from Florida
Peyton: that my brother has a good birthday
Allie: that March break goes well.

Grade 1 & Under Wednesday Class
(from last week)
What do you want to thank God for making on your body?
Lydia: Thank you God for my hair
Knox: Thank you God for my eyes, ears, mouth, and nose

Grade 2-5 Wednesday Evening Class
(from last week)
Gwen: praying that my competition in gymnastics goes well
Lacey: praying that my cousins arrive safely at my house
Taryn: praying for safety for Gwen and I as we compete
Hailey: praying that my grandma arrives safely at my house
Miranda: praying that my grandma and grandpa get better
Allie: praying that when we go bowling, Avery does well
Aiden: praying that bowling goes well for Avery
Elet: praying that power skating goes well
Claire: praying that going to the science centre goes well
Lochlan: praying that going to the science centre goes well

---
Upcoming Events
March 17 @ 7pm    Parenting Workshop: Answering Spiritual Questions with Your
April 2 @ 4pm        The Chosen - Episode 1 - The Homecoming
April 16                   Celebration of Spring Potluck
April 21 @ 7pm       Parenting Workshop: When My Child Chooses a Different Path
Apr 21-23                Great Lakes Youth Rally
April 23 @ 4pm      The Chosen - Episode 2 - Two by Two
April 27-30              Micah 6 Mission Trip
April 29 @ 2pm      Bridal Shower for Catherine Wirkkunen
May 19 @ 7pm       Parenting Workshop: Human Sexuality in the Public Domain
---
Prayers
 - For Tintern's prayer list, check out our website

www.tinternchurchofchrist.ca

. In the "Prayer Hub" button (top right corner or click

here

) is where you will find our list of prayers. You can also add prayers.
Tintern in Person and Online
 - Join us this Sunday for in-person service at 9:45 am. If you are feeling unwell, please remain at home. Masks are optional, however Niagara Region Public Health recommends residents wear a mask in indoor spaces.
BeingHisHands FebMar2023-compressed.pdf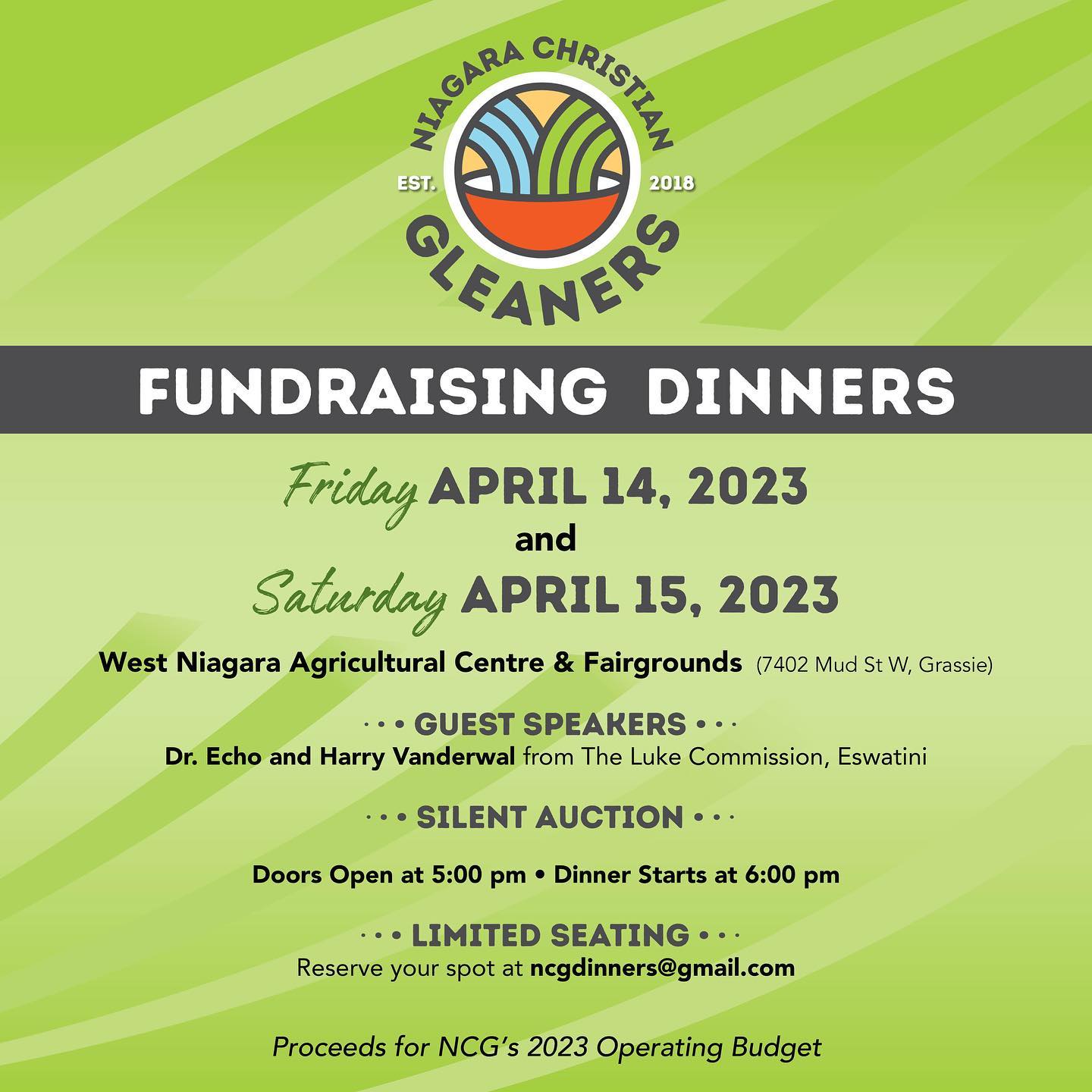 2023 Feb St Albans Anglican Church Feb.pdf