Prayers
- For Tintern's prayer list, check out our website
www.tinternchurchofchrist.ca
. The "Prayer Hub" button (top right corner or click
here
) is where you will find our list of prayers. You can also add prayers.
Fall Back - Reminder to turn your clocks back one hour this coming Saturday night.
Kids Coin Collection
- This Sunday is our coin collection. Our kids are going to help collect the money for the kids we are sponsoring. We are sponsoring two children through Christian Relief Fund, Gabriela Jordan (from Piedras Negras, Mexico) and Ambar Gonzales (from Tegucigalpa, Honduras) and also CityKidz in Hamilton. You can also e-transfer money to
tinternpayables@gmail.com
, in the message box be sure to let us know that the funds are for the kids collection.  A newsletter from CityKidz is attached.
GL Chief Administrative Officer
- We celebrate with but are saddened to announce that Don Rose, the Chief Administrative Officer of Great Lakes Christian College (High School and Preschool) is stepping down from his role effective June 30, 2024, after twenty-seven years of service as a teacher (1997-2006) and an executive administrator (2006-2024). During this time, he simultaneously served as the President of Great Lakes Bible College in Waterloo, Ontario (2006-2011) and as Principal of the High School program (2013–2018). While he continues to be passionate about the mission of GLCC, he stated that he would like to focus on quality time with his family and explore new professional, spiritual, and creative endeavours. As the Search Committee diligently works to identify our next CAO, we kindly request your assistance in spreading the word. For those interested in a more comprehensive description of the role, please go to
www.glchs.on.ca/about/job-opportunities/
. Should a printed version be preferred of the job ad sent to you, kindly send your address to
development@glchs.ca
. 
From Graf-Martin Communications - The Christmas season is a beautiful time that reminds us of the birth of God's Son, Jesus, and the profound love, hope, and joy He brought into the world. That message doesn't change from year to year. Even amidst the challenges and uncertainties we may face, Christmas remains a symbol of Hope and a reason for Joy.
This Christmas, join us in celebrating this unique rendition of the birth of our Saviour. Experience the Nativity story like never before. AFFIRM Films introduces
Journey to Bethlehem
: The Musical (
click here
to watch the trailer - I'm sure it will put a smile on your face).
This isn't just another retelling; it's a harmonious blend of time-honoured Christmas melodies, modern pop hits, and heartwarming humour. Witness Mary's courage, Joseph's internal struggle of love and duty, and a King's unyielding quest for power, all underpinned by faith. Designed for audiences of all ages, this live-action musical promises to be both a touching and entertaining addition to holiday classics.
Journey to Bethlehem will be released in theatres across Canada next Friday (November 10, 2023) at LANDMARK CINEMAS PEN CENTRE — ST CATHARINES, ON.
GLCHS Homestay Opportunity
- GLCHS has two Japanese High School Students coming to be with us for 9 weeks starting mid-January 2024. We are looking for two separate local homestay hosts that would house and feed these girls. This is a paid opportunity. They will be away for two extended weekends during the 9 week time period. If you are interested in being considered as a host, please contact
dwayne.williams@glchs.ca
before Nov 12 2023
Thank You - Thank you so much for letting us use the building on Saturday for Wil's memorial service and fellowship afterwards. Thanks to  Linda Smith and her team for organizing and serving the refreshments and all who graciously provided the food. Thanks also to Noel Walker for manning the sound system and taking care of the live stream of the service. It was a wonderful afternoon of reminders of the really important things in life, reminiscing, singing, tears and laughter. Just the sort of fellowship time Wil would have thoroughly enjoyed. Thank you for the beautiful flowers, cards, emails, hugs, phone calls and support you have given us and our extended family over the past month.  It has been such a blessing for us.  Even though we know this was best for him, we know he will be missed by many beyond his family.       Love Anna, Merv and the Maddeaux/Tallman families   
Great Lakes Christian High School - Attention Grade 6-8 families: Great Lakes Christian High School would like to invite you to our Open House and Shadow Day experience! NEW: Transportation available on demand from Stoney Creek and Grimsby as well as St. Catharines.
Open House: Thursday November 16th at 6:30pm. Bring your family! Students will be hosted by current students during an Amazing Race in which they explore the school and meet teachers while parents will attend an info session with the Principal, Guidance counselor and other staff who work directly with your student in their future. Pizza provided before. (We know the challenge of fitting life in – we are parents too!) To register: Click Here. 
Shadow Day: Friday, November 24th 8:00am-3:15pm. Students come for a day to experience what high school is like as a Great Lakes Laker! (Lunch provided). To register: Click Here.
Laughing All the Way:
  Community Connections @ Mountainview invites you the join us for a Christmas Comedy and Carols experience for the whole family (
www.mountainviewcrc.org/latw-2023
) 
Join us at 6 pm (before the show) for a bit of winter fun!
• Cookie Decorating • Colouring station • Hot Chocolate Bar
• Games • Photo Booth and more...
---
Upcoming Events
Nov 10       Friday Night Connect
---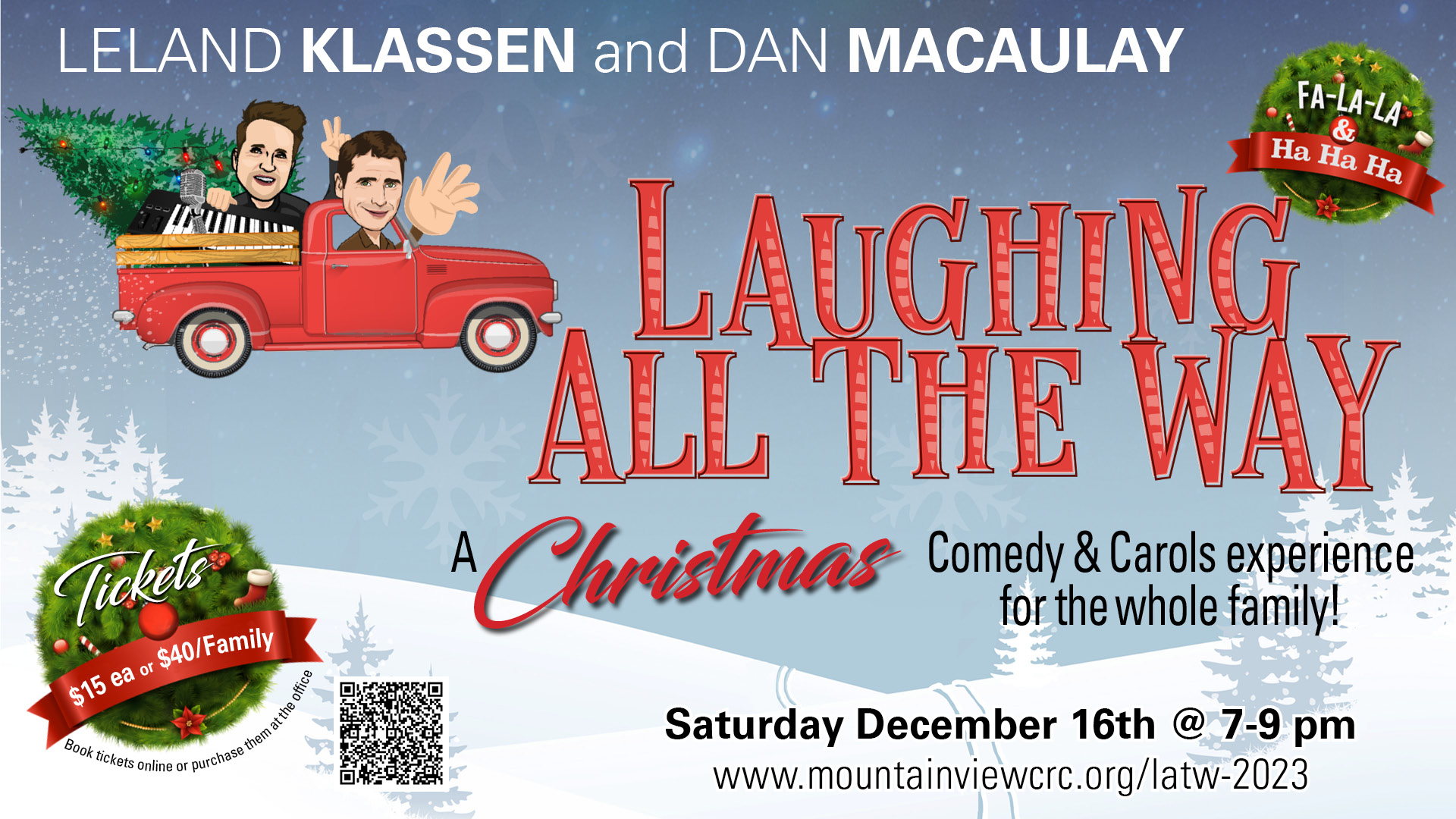 [2023 CityKidz Newsletter October.pdf] glchs-cao-job-ad-concise.pdf