Baptism - Congratulations to Maddie Whitfield on her decision to be baptized last Sunday morning! Continue to pray for and encourage Maddie and our young people as they make these decisions.
Baby News - 
Allen & Maddie Garcia are expecting baby #2 at the end of July. Congratulations to the Garcia and Williams families.
Micah & Mackenzie Koudijs are expecting baby #2 in October. Congratulations to the Koudijs and Ayala families.
Condolences - 
Bev Boden's father, Andy Heron, passed away on Friday April 28, 18 days after his wife May passed away. Click here to read his obituary. A Celebration of Life to honour both of Bev's parents will take place on Saturday May 13, 2023, at 10:30 a.m. at MacNab Street Presbyterian Church, 116 MacNab St S, Hamilton, ON. Please note that parking at the church is street only parking and is extremely limited. Please remember Bev, Jamie, Caitlin, Gabriel and the other family members grieving this double loss.
Jodie Cook's mother, Linda Codling, passed away on Saturday April 29. Linda's funeral will be this Saturday, May 6 at 1pm at the Harvest Bible Chapel  Barrie (7 George Street, Barrie L4N 2G5). Church doors will open at 12pm for the family to greet visitors and there will be light refreshments served after the funeral. More details about a live stream option will be provided to us later in the week. Please remember Jodie, Jeremy, Lauren, Sydney, Abbey and the other family members grieving.
Summer Schedule - TRUTH and EPIC need teachers and helpers on Sundays during class in the summer. If you'd like to sign up for a month, you can sign up on the bulletin board in the auditorium. Thank you to all of our helpers! It takes a village! 
Kids Coin Collection
- This Sunday is our coin collection. Our kids are going to help collect the money for the kids we are sponsoring. We are sponsoring two children through Christian Relief Fund, Gabriela Jordan (from Piedras Negras, Mexico) and Ambar Gonzales (from Tegucigalpa, Honduras) and also CityKidz in Hamilton. You can also e-transfer money to
tinternpayables@gmail.com
, in the message box be sure to let us know that the funds are for the kids collection. CityKidz and Christian Relief Fund have sent their latest newsletters. Copies are below. Printed copies are posted on the bulletin board near the bathrooms.
Bible Day Camp - 
If you would like to volunteer for one of the many positions available please let Margaret know. Email her at office@tinternchurchofchrist.ca or speak to her. Thank you to all those that have signed up to help!
Please bring in empty paper towel rolls. There is a white bin in Margaret's office where they can be placed.
Tintern Discernment Challenge - On Sunday Apr 23, during adult class we read from Acts 8:26-35 and discussed the practice of listening to God. Our challenge for the next few weeks is considering the questions: 
What are we hearing from God? 
What events or words are catching our "spiritual" attention? 
Where might we see God at work in our world? 
Where might we see God at work in our local community? 
We encourage you to consider these questions over the next few weeks. We'll have a chance in May to talk about this together.  
Friday Night Connect - We are rebooting Friday Night Connect!! It will be the 2nd Friday of every month. Our kickoff will be Friday, June 9th at Jas and Justine Mogford's house. More information to come, but mark your calendars in the meantime!
Kumalo Newsletter - Attached is a recent newsletter from Cintia Kumalo. A printed copy will also be posted on the Missions' bulletin board.
Sunday School Picnic - We are looking for a volunteer to plan this year's Sunday School Picnic. If you are interested please speak to Margaret.
Mom to Mom Sale
- Great Lakes Parent Council is hosting the Lincoln Mom to Mom Sale on May 27 at GL. Do you have any baby or children's gently used items that you would like to donate?  Money raised from the items you donate will go towards the Great Lakes Parent Council.  If you have anything please contact Nicole Breukelman at
nicolebreuk400@gmail.com
.
Fenwick Ladies Day
- This year's theme is "Weathering the Storms of Life" (Holding on when life gets rough). The guest speaker is Pat Knutson of Barrie. It will be at the Wellandport Community Centre, 5042 Regional Road 63, Wellandport, ON.  Morning coffee and lunch provided. To assist with planning, please register by May 18, 2023. You can call 905-386-6916, email
dandelionacres@gmail.com
or
cofcfenwick@gmail.com
(please advise of any special dietary needs). A flyer is posted on the bulletin board near the bathrooms.
Camp Omagh - Omagh is looking for some help with their work days. All the information is in the image below.
Niagara Life Centre - NLC has sent us their latest newsletter. You will find it below. A printed copy will be posted on the bulletin board near the washrooms.
GROW 2023 - Starts this weekend! Dr. Ed Gray, Professor Emeritus of Counseling at Harding School of Theology in Memphis, TN, is speaking to us about "Comforting One Another" (2 Corinthians 1:3-5). Ed will help equip us with the knowledge and skills that we need to help others go through difficult times by growing our listening, empathy, and compassion skills. This is definitely something that we can use to grow our relationship with our spouse, children, friends, co-workers, and of course our brothers and sisters in Christ.
Here is the weekend schedule for those who are joining us online:
Friday, May 5, 7:00 PM - Lesson 1: Biblical Reflections on Helping Others
Saturday, May 6, 10:30 AM - Lesson 2: What Do I Need to Know About Helping Others?
Saturday, May 6, 1:15 PM - Lesson 3: Growing Specific Connecting Skills
Sunday, May 7, 10:00 AM - Lesson 4 (Sermon): Igniting Hope and Change
---
What Are Tintern Kids Praying for:
Grades 1 & Under Wednesday Class
Thank you God for helping me learn "big" things like…Knox: learning coding
Lydia: learning new things
Lucy: learning about dinosaurs
Grades 2-5 Wednesday Class
Dear God, we know you can help us with our fears like…
Ruby: being afraid of Grandma bending her knee and needing to have surgery
Lochlan: being afraid of my puppies sold
Hailey: being afraid of dogs
Miranda: please help my dog who has a sore back
Allie: my grandma and grandpa not getting the parts they need to fix it
Aiden: being scared of getting in trouble with my teacher
Claire: being scared that one of the puppies might die

---
Upcoming Events
May 6 @ 5:30pm  Rock 'N Roll Diner at GLCHS
May 7 @ 4pm        Episode 3 - Physician Heal Thyself
May 14                  TRUTH Led Worship
May 19 @ 7pm     Parenting Workshop: Human Sexuality in the Public Domain
May 21 @ 4pm     Episode 4 - Clean Part 1
May 27                  Lincoln Mom to Mom Sale at GL
May 27                  Fenwick Ladies Day
May 28                  GL Chorus @ Tintern
---
Prayers
- For Tintern's prayer list, check out our website
www.tinternchurchofchrist.ca
. In the "Prayer Hub" button (top right corner or click
here
) is where you will find our list of prayers. You can also add prayers.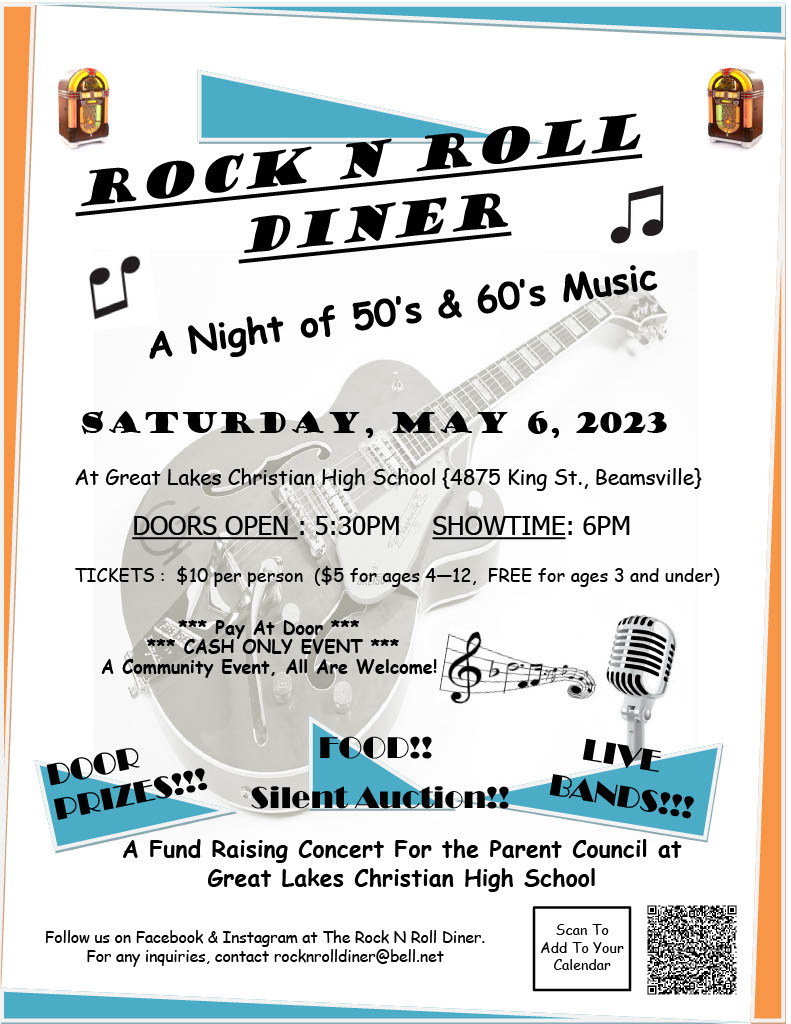 2023-citykidz-newsletter-april-2.pdf
2023 03 CRF Gabriela Yasaret Letter.pdf
2023 05 01 Kumalo latest update.pdf