Tintern in Person and Online
 - Join us this Sunday for in-person service at 9:45 am. If you are feeling unwell, please remain at home. Masks are optional, however Niagara Region Public Health recommends residents wear a mask in indoor spaces.
Welcome Back Megan - We are delighted to share with the congregation that Megan has returned to work with the Tintern Staff as a Part Time Minister. She will be spending a couple days a week working with us, coordinating Sunday School resources, working with Teens and Pre-Teens in addition some responsibilities at Great Lakes working as a Campus Minister there. You can contact her at megan@tinternchurchofchrist.ca or by cell (931) 881 6094.
Parent Meeting with Megan - Sunday, February 26, there will be a meeting during class time for parents of ALL kids (birth - grade 12) to discuss leadership transition and receive input on ministry needs. For those unable to attend there will be a handout with meeting highlights as well as a Google Form where you can submit input/questions.
Kids Coin Collection - This Sunday is our coin collection. Our kids are going to help collect the money for the kids we are sponsoring. We are sponsoring two children through Christian Relief Fund, Gabriela Jordan (from Piedras Negras, Mexico) and Ambar Gonzales (from Tegucigalpa, Honduras) and also CityKidz in Hamilton. You can also e-transfer money to tinternpayables@gmail.com, in the message box be sure to let us know that the funds are for the kids collection. CityKidz had sent their latest newsletter. A copy is below. A printed copy is posted on the bulletin board near the bathrooms.
Participating in Worship - Would you like to participate publicly in our weekly worship service at Tintern? The Worship Ministry has distributed Worship Participation form in your mailbox as an easy and convenient way you can communicate your interest. Check the boxes of the roles you would like to participate in and fill out the other information so we can communicate with you. If you have any questions feel free to contact Noel, Martin or Margaret.  We will also be doing some training sessions in the months to come to provide some guidance and training in how to prepare for each of these roles. Extra copies are in one of the mailbox slots.

Men's Discussion Meeting - For the past year the congregation has been discovering and engaging with the practise of hearing all voices in our worship services. The eldership has found the past year encouraging, formative and hopeful as we heard the voices of all ages, genders and demographics in our congregational worship.

The Elders and Ministry staff would like to hear from each member regarding their perspective on this year of discovery.  What have you enjoyed?  What has been uplifting?  What have you found to be a challenge?

Please join us for an in-person evening of listening, sharing and reflection at 3 pm on February 5th.

Telephone List - In your mailboxes you will find an updated copy of the one page telephone list. If you would like a PDF version contact Margaret (office@tinternchurchofchrist.ca) and let her know.

Directory - In your mailbox you will find some updated pages. If you would like a PDF version contact Margaret (office@tinternchurchofchrist.ca) and let her know.

Announcement/Prayer Request Cards - You will find the blue Announcement/Prayer Cards in one of the slots in the mailbox (near the top left side). If you have any announcements or prayers you would like to be included, please fill out the card and give it to the individual that is doing Family Time on that particular Sunday. 
Gluten Free Communion Wafers - If you require gluten free food, on the table at the back of the auditorium (near the kitchen) there is a box that has individually packaged gluten free communion wafers. Please help yourself each week. 
Cookies & Muffins - We'd like to start back up with our cookies and muffins once a month. This will generally fall on the last Sunday of each month. Depending on the number of volunteers will determine the number of times you'd be asked to provide cookies or muffins or squares. Please have food table ready. No nuts and label anything with peanuts or a specialty food type.  If you are interested please contact Margaret (office@tinternchurchofchrist.ca) and let her know. 
Another Housing Need
 - 
Svitlana is preparing to take the next step in her big adventure living in Canada. Within the next few months she will be looking for an apartment. It must be in Beamsville so that she can maintain her employment. If you are aware of any reasonably priced apartments, please let Marcia or Linda know.
GLCHS - 
Niagara Christian Gleaners - There is another opportunity to work for a morning at the Gleaners, Saturday - February 25. 8 am to 11:30. Those who were not able to join us this past Saturday would be most welcome, and others. Please email Sandy (sooner than later) with your intent to participate.  resilient979@gmail.com. The Gleaners have also sent a newsletter which is attached below. A printed copy will be on the bulletin board.
Effect Hope - If you haven't done so yet, we are asking that you would help support Effect Hope and the people we serve in these three ways:
This year we have set a goal of raising $25,000 in January to help bring awareness to World Leprosy Day. Thanks to our incredible donors, we're already 70% of the way there!
By sharing the above links or donating directly, you are playing a part in helping to end leprosy and other neglected tropical diseases. Even minor contributions have a lasting impact on the lives of those we serve together. 
Be a Good Neighbour
 - Remember to check in with family, friends and neighbours. Also, local food banks are increasingly in need of food. Watch out for info regarding food drives in your area.
Prayers
 - For Tintern's prayer list, check out our website

www.tinternchurchofchrist.ca

. In the "Prayer Hub" button (top right corner or click

here

) is where you will find our list of prayers. You can also add prayers.
---
What are our Tintern Kids Praying For
Grade 1 & Under Sunday Morning Class
We need Jesus when...
Knox: we need Jesus to help me when I am scared
Lucy: when I need to say thank you for my food
Lydia: I need Jesus all the time
Grade 2 & 3 Sunday Morning Class
Claire: praying for Lochlan's hockey tournament to go well
Hailey: praying for snow for her birthday party
Miranda: praying for help to not be silly at the wrong times
Aiden: praying for more playdates with our friends
Elet: praying for Thor 2 and with help being good

Grades 4 & 5 Sunday Morning Class
Lochlan: praying that the hockey tournament and season go well
Gwen: praying that the trip to Florida goes well
Allison: praying for help saying no to temptations
Peyton: praying for a sleepover with friend that she's having a playdate with
Grade 1 & Under Wednesday Evening Class
I can pray for my friends...
Knox: praying that Eli has safe travels
Lucy: praying for Ellie and Malcom
---
Feb 5 - Men's Discussion Meeting @ 3 pm
Feb 7 - GL Virtual Open House
Feb 26 - Parent Meeting with Megan (during adult class time)
Mar 5 – Tintern AGM (during adult class time)
2023 CityKidz Newsletter Winter.pdf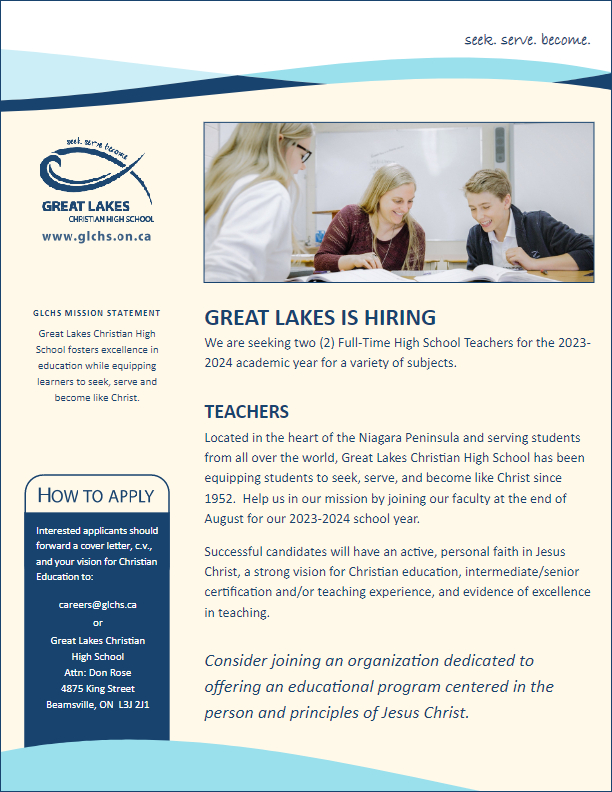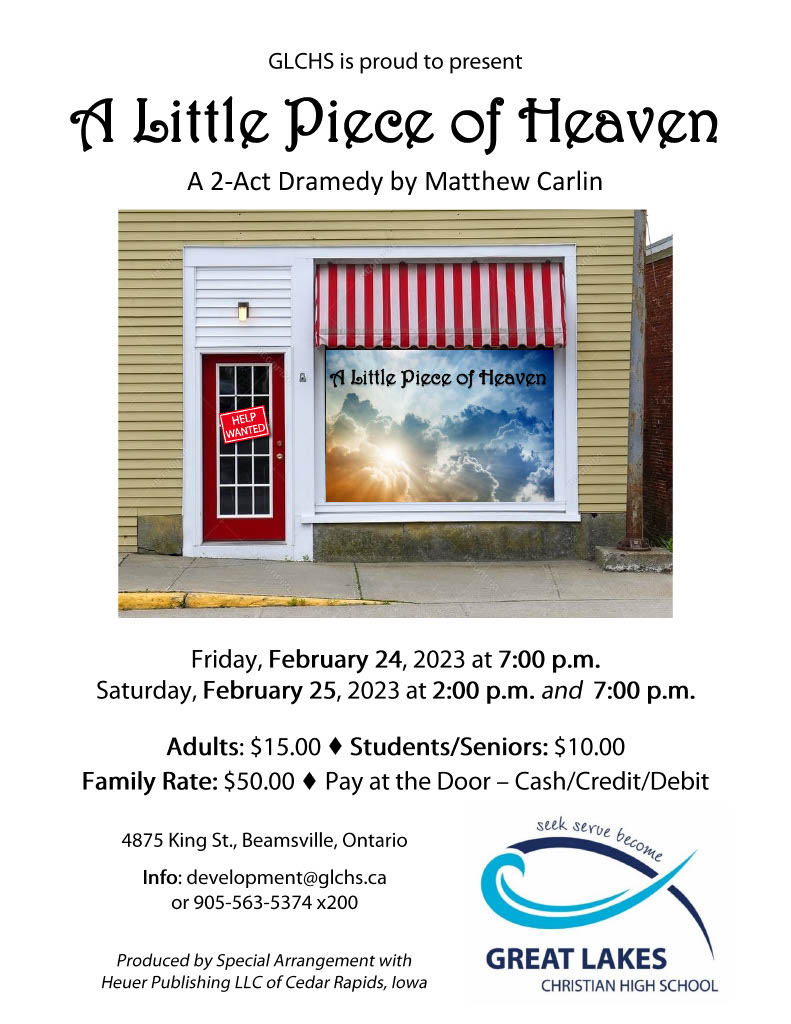 2023 January NCG Announcement.pdf